The Chesterfield Brand's Original Chesterfield Certificate
The Chesterfield Brand's original Chesterfield Certificate distinguishes itself from all other Chesterfield certificates because:
• The original certificate is printed on certified paper.
• The original certificate is provided with a wax seal, which is a hallmark stamp used to guarantee the authenticity of this physical document.
• The original certificate has been signed at the factory.
• The original certificate has a unique production / order number.
• The original certificate number, can be traced back to the craftsman.
• The original certificate is inextricably linked to the guarantee terms.
• The original certificate entitles the purchaser to the transferable guarantee in the event of sale.
Chesterfield.com is the exclusive partner for The Chesterfield Brand and brings the products directly from the manufacturer to the customer.
The Chesterfield Brand furniture you see on our website and in our showrooms is produced in an honest and traditional manner in our factories and tanneries.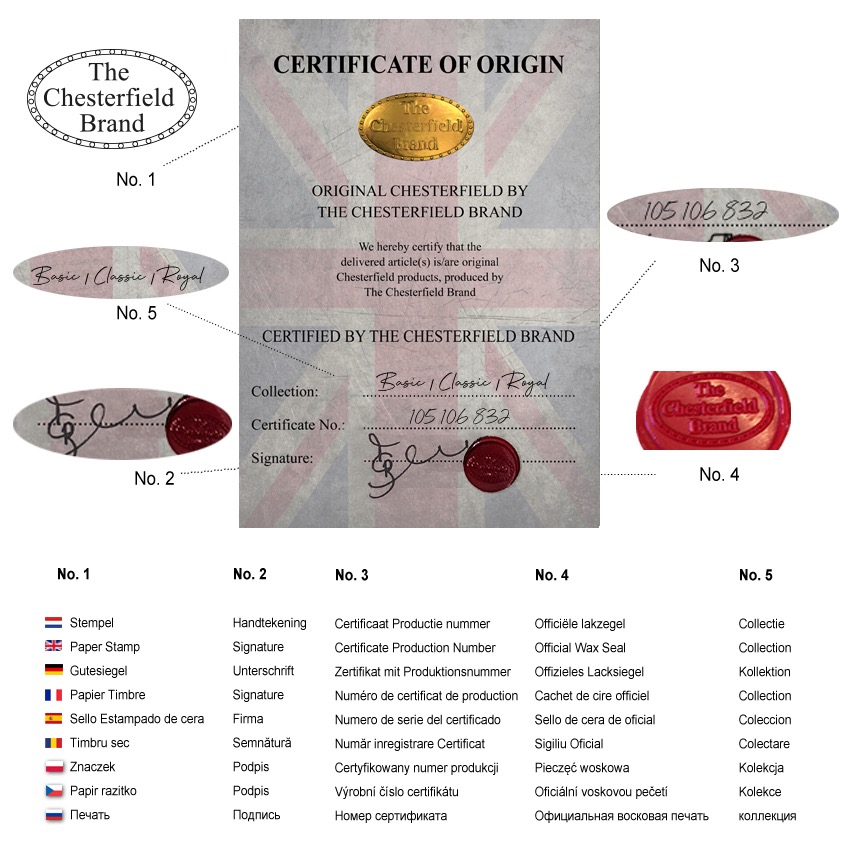 The Largest Collection of Chesterfield Furniture at Chesterfield.com
The Chesterfield Brand stands for the processing of the highest quality materials.
It is a dynamic brand that, in addition to its traditional models, also experiments with its own style.

The Chesterfield Brand is the leading brand of Chesterfield furniture. At Chesterfield.com you can customise your Chesterfield furniture to your liking.

You will receive a Certificate of Authenticity with every piece of furniture from The Chesterfield Brand.
Quality is of great importance to Chesterfield.com. To prove this, this certificate is used with the following guarantees:
The furniture is made as authentically as possible
The furniture is from the original Chesterfield Brand
The furniture is produced, shipped and transported with the utmost care